Explore the new deals of ALDI Catalogue Special Buys Week 40 2022. They have a lot of new products like canned goods of Indian food ingredients. Cook delicious spicy foods from Indian cuisine and save with ALDI prices. Most of things you can find in the ALDI Catalogue will probably cost more expensive in another supermarket. Coconut milk, tikka massala, serving bowls, and many more are available on pg 2-3. Also, they offer great deals on baby care products, too. Insulated bottles, children's step stool, and more items are available on pg 4-5. Lacura beauty products are available in this one. There is also an interesting product: LED light therapy face mask. It will cost $249.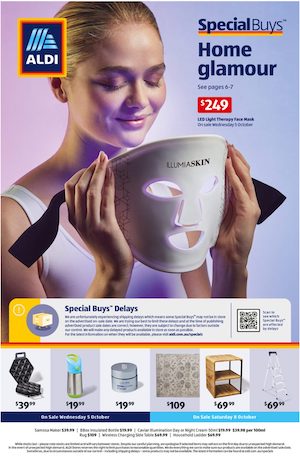 ALDI Home Sale, Furniture, Painting Products, Vacuum Cleaners
ALDI Catalogue Special Buys Week 40 2022 has home products and painting products. You will see a lot of new products like rugs. Pay only $109 for a rug that can cover your living room in this catalogue.
Subscribe to the newsletter of catalogueau.com and start receiving new deals regularly.