Mother's Day sale is one of the promoted things in the new Woolworths Catalogue. Pay only half for Ferrero Rocher, Golden Crumpet rounds, Nescafé, and more products on the front page. Half-price deals like John West salmon, Kettle chips, Ferrero Rocher are the first things you will see in this catalogue. The supermarket sale is a huge part of the catalogue if not the whole. Take a look at the Mother's Day brunch sale on this catalogue. It is one of the most common activities for special days. Make some waffles or pancakes for your mother using White Wings shaker pancakes. Don't forget to have Capilano pure honey on your table, either.
Woolworths Catalogue 4 - 10 May 2022 promotes deals like these: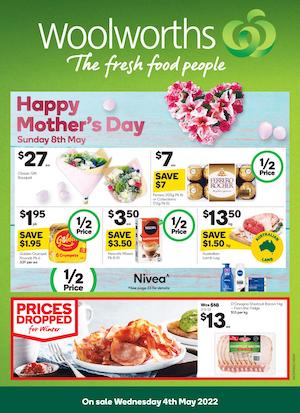 Woolworths Snack Sale & Confectionery
Shop the popular brands of confectionery and chocolate blocks. You can find chocolate boxes and bars on the same part. Woolworths Catalogue 4 - 10 May 2022 has fresh fruits, veg, meat, seafood deals, and more products. Check out some of those items:
Woolworths Pantry and Grocery
A page is full of only half-price deals in this category. You can find recipes and the ingredients for them. And they are on sale. You can shop the product range of "prices-dropped" and save more. Also, you will probably like the fresh categories if you enjoy cooking at home.
Fridge & Frozen Category
There are special deals on ice cream, frozen meals, dairy products. This isn't unusual but it's always fun to catch new deals on products which we like to keep in your fridge. Quite a few of those are available in Woolworths Catalogue 4 - 10 May 2022. See these products and more this week:
Find health & beauty products, half-price deodorants and shampoos, Essano, Polse, Rimmel products, and many more in the catalogue.